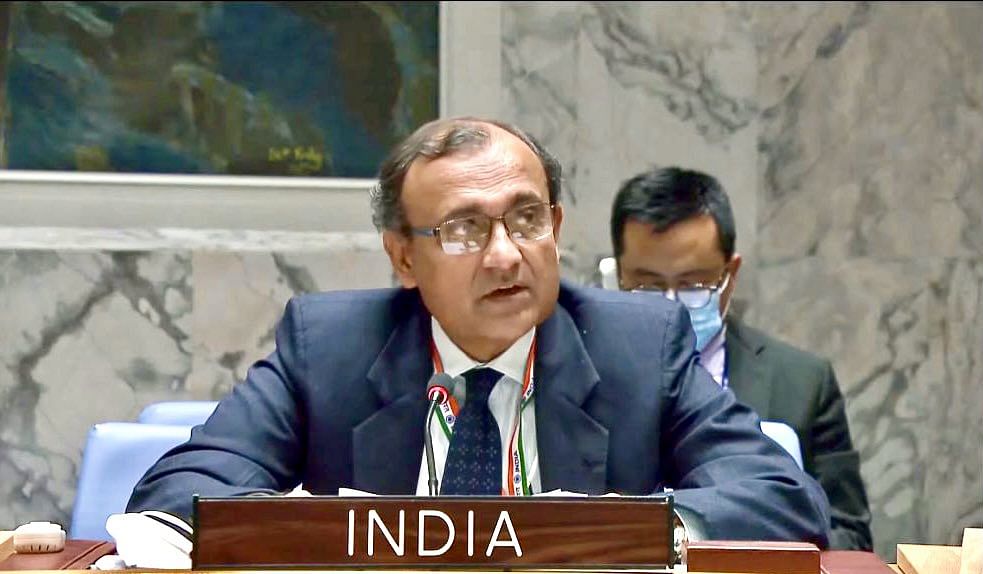 Anti-Hindu, anti-Buddhist and anti-Sikh phobias need UN attention, says Indian envoy Tirumurti
New Delhi: India, which earlier this month assumed the chairmanship of the UN Security Council's Counter-Terrorism Committee for 2022, says the world must acknowledge and recognize 'Hinduphobia' as well as hatred against religions Buddhists and Sikhs.
TS Tirumurti, India's Ambassador to the UN, said earlier this week that "we must not accept double standards in this battle…".
"Terrorists are terrorists, there are no good or bad ones. Those who propagate this distinction have an agenda. And those who cover it up are equally guilty," he added, speaking at an event organized by the Delhi-based Global Counter Terrorism Council.
Earlier this month, Tirumurti assumed the chairmanship of the United Nations Counter-Terrorism Committee (CTC), which was formed in 2001, after the September 11 Twin Towers attacks in the United States.
Tirumurti said at the event that he was speaking as India's envoy to the UN, not as CTC chairman, but hinted that the Security Council must be " on guard against new terminologies and false priorities that can dilute our focus". ".
"No good or bad terrorists"
In December 2020, the United Nations General Assembly approved a resolution – "Promotion of interreligious and intercultural dialogue, understanding and cooperation for peace" – which speaks of Islamophobia, anti-Semitism and Christianophobia, giving debate around Abrahamic and non-Abrahamic religions. .
Referring to the seventh review of the Global Counter-Terrorism Strategy (GCTS) adopted by the United Nations General Assembly in June 2021, Tirumurti said: "The emergence of contemporary forms of religiophobia, in particular anti-terrorism phobias Hindus, anti-Buddhists and anti-Sikhs is a matter of grave concern and one that requires the attention of the United Nations and all Member States to address this threat.
"Terrorists are terrorists. There are no good and bad. Those who propagate this distinction have an agenda. And those who cover them up are equally culpable," he said.
"Over the past two years, several Member States, driven by their political, religious and other motivations, have attempted to classify terrorism into categories such as racially and ethnically motivated violent extremism, violent nationalism, extremism right, etc This trend is dangerous for several reasons.
"Recognize violence against Hindus, Buddhists and Sikhs"
As terms such as Islamophobia and Christianophobia began to enter the UNGCTS lexicon towards the end of 2019 and the beginning of 2020, India began pushing for recognition of violence against Hindus, Buddhists and Sikhs.
"Al-Qaida's links with terrorist entities banned by the Security Council such as Lashkar-e-Taiba and Jaish-e-Mohammed have continued to grow. Its regional affiliates in Africa continue to grow," Tirumurti said, adding that this is the reason why UN resolution 2593 (2021) was passed under India's presidency in August 2021, which took into account the "collective concern" over Afghanistan and the threat of terrorism emerging from there in the wake of the Taliban's takeover.
India has not raised the issue of violence against Hindus, Sikhs and Buddhists at the UN since June 2021, when Minister of State for External Affairs V. Muraleedharan last spoke about it. time during the United Nations Security Council High Level Open Debate on "Peacebuilding and Sustaining Peace: Diversity, State Building and Peacebuilding".
(Editing by Poulomi Banerjee)
---
Read also : Won't shut up if rules-based order challenged, says envoy Lindner while visiting German warship
---