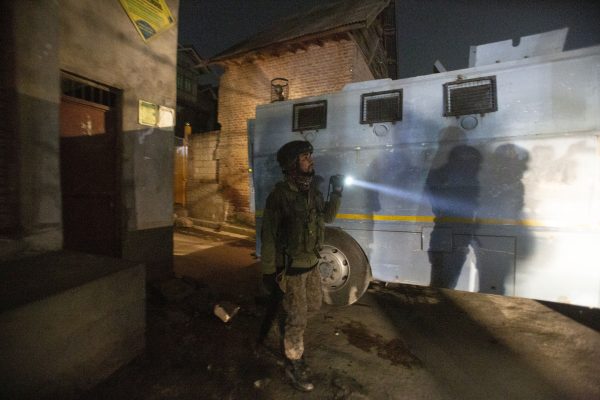 Anti-Indian activism returns to Srinagar – the Diplomat
An Indian soldier guards near the site of an attack on the outskirts of Srinagar, Indian-controlled Kashmir, Monday, December 13, 2021.
Credit: AP Photo / Mukhtar Khan
On December 13, three policemen were killed and eleven others wounded, when activists fired bullets into a bus carrying more than two dozen policemen in Zewan, on the outskirts of Srinagar, the summer capital of Jammu-et- Cashmere (J&K).
The attack, which is the first major attack on security forces since J & K's autonomy was abrogated in August 2019, is the deadliest since the February 2019 suicide bombing on a bus carrying police personnel central reserve in Pulwama.
Monday's attack coincided with the 20th anniversary of the 2001 attack on the Indian Parliament.
A little-known organization, "Kashmir Tigers", which is said to be a front organization of Pakistan-based Jaish-e-Mohammad (JeM), allegedly carried out the attack on J&K police officers. Incidentally, JeM and Lashkar-e-Taiba, (LeT), groups with close ties to Pakistan's Inter-Services Intelligence, were also behind the 2001 parliamentary attack.
Monday's attack by the Kashmiri Tigers in Srinagar has raised "serious concerns" within the Indian security establishment.
A heavily fortified neighborhood, Zewan is home to the J&K armed wing police complex, the CRPF sector headquarters, the Indo-Tibetan border police headquarters and several armed police battalions.
In addition, security in Srinagar "was very tight" on December 13, senior J&K police official told the diplomat, as it was the anniversary of a major terrorist attack.
In a statement claiming responsibility for the attack, the Kashmiri Tigers said "the strike is a tribute to all the martyrs of the Kashmir resistance." He blamed the "atrocities" committed by "the occupation regime and its cronies" for its "strike" and warned of more attacks to come.
Kashmir Tigers is one of several militant groups that have emerged following the revocation of J & K's autonomy. Unlike militant groups like Jaish-e-Mohammad, Allah Tigers and Hizbul Mujahideen which have distinctly Islamic names, post-2019 groups such as The Resistance Front, People Against Fascist Forces, United Liberation Front, and the Kashmir Tigers have names unrelated to religion.
According to the police chief, "the so-called new groups are just front outfits for LeT and JeM." "Their secularization," he said, "only concerns their name" and aims to give them a more political than religious image.
In October, the TRF, for example, claimed responsibility for the killing of civilians from the Hindu and Sikh communities in Srinagar. However, he said his targets were not chosen for their religious identity. He said the pharmacist he shot for organizing "seminars and secret meetings" of the Rashtriya Swayamsevak Sangh, an organization that defends Hindutva ideology. Teachers were killed for forcing schoolchildren to participate in India's Independence Day celebrations, he said in a statement, dismissing claims he sought to oust religious minorities from Kashmir dominated by Muslims.
New groups like TRF and Kashmir Tigers were created in the post-2019 situation in Kashmir "to show that they were born out of local anger against the Indian state," the police official said. It was "to make their violence more acceptable to Western rights activists."
Monday's Zewan shooting is the latest in a series of attacks and activist meetings that have taken place in Srinagar in recent months.
In September 2020, the capital J&K was declared without militancy. However, a year later, Srinagar has become a hub of militant activity and attacks in Kashmir.
Many wanted militants have been captured or killed here. According to official figures, 2020 saw nine meetings between militants and security forces in Srinagar. That number has risen to 20 this year. As of December of this year, 34 people, including seven police officers and 14 activists, have been killed in the city. Srinagar district recorded the highest number of civilian deaths this year. Of the 10 civilians shot dead here, six were from minority communities. Out of 10 activists on wanted lists since March this year, five were from Srinagar. TRF chief and recruiter Abbas Sheikh, who operated from Srinagar, was shot dead in the city.
The return of militancy to Srinagar is concerning, especially as TRF and other groups use easily concealable pistols to attack people.
Over the past three months, more than 3,000 additional paramilitaries have been deployed to Srinagar. The scene looks a lot like the 1990s, when anti-Indian militancy was at its peak and Srinagar was a highly secure city, with heavily fortified bunkers on street corners and outside buildings, and military personnel housed in civilian buildings.
With more police officers deployed in Srinagar, the potential targets are multiplying. We can expect more attacks and militant meetings here.