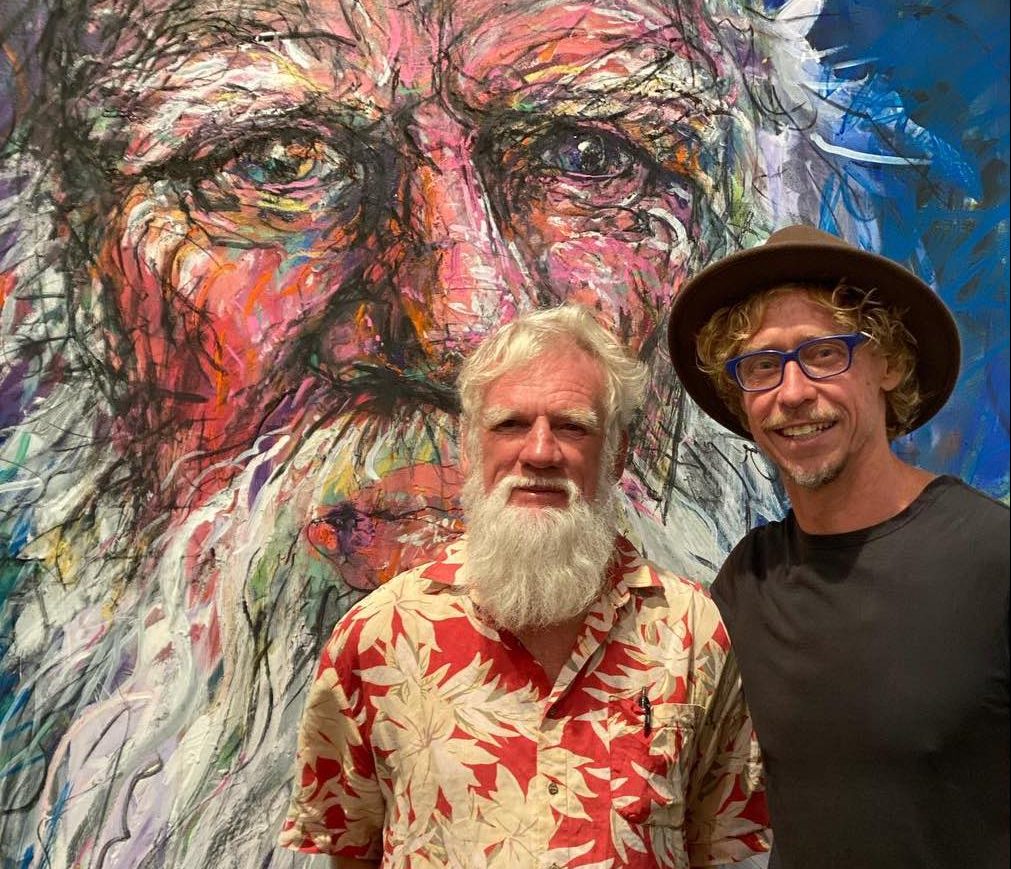 Archibald-winning artist Craig Ruddy dies of COVID-19
Byron Bay Hinterland artist Craig Ruddy died this week at the age of 53 from complications from COVID-19. He had tested positive for the virus a few weeks ago.
Ruddy had an expressive and free style of painting and drawing, favoring large-scale dramatic portraits and figuration, as well as rich abstract landscapes.
"Her work reflects a deeply personal ongoing spiritual journey, where the artist explores issues of social conscience as well as current environmental issues," describes Ruddy's website.
Ruddy is best known for his portrayal of Archibald Prize winner David Dalaithngu (Gulpilil), titled Two worlds, awarded in 2004. It was his first entry into 'The Archi', and an experience the self-confessed introvert remembered for many reasons. Rendered in charcoal, the victory came under scrutiny and sparked a legal battle over whether it was eligible for the award, as its very medium confused the definition of a "painting."
Sydney artist Tony Johansen, a regular Archibald attendee, argued that Ruddy's winning portrait was a drawing; however, NSW Supreme Court Justice John Hamilton disagreed and dismissed the request. It was a two-year battle etched in the history of the centenary award. The work has since been made available as a print.
However, throughout his career, Ruddy had learned that fame was not what he sought; but rather a balance of mind, connection and community.
In a twist, Dalaithngu has also passed away in recent weeks from Ruddy's death, after a long battle with lung cancer.
Read: Vale David Dalaithngu AM
Find the paint; find the intention
Ruddy didn't come to painting until 2001, and yet he's been a finalist five times, most recent in 2020 with a portrayal of writer Bruce Pascoe.
Ruddy writes from Pascoe on his blog: "He showed me that humility, sensitivity, openness and acceptance are where the real strength lies… I will continue to use my place as an artist to be an ally of Indigenous Australians, our elders and our natural world, and continue to carve out a place for myself in public awareness for indigenous voices and knowledge to shine and be respected, for the growth of all Australians and our global community.
He also painted Indigenous director Warwick Thornton in 2010 (winning People's Choice) and Indigenous Olympian Cathy Freeman in 2011.
Ruddy's death was announced to his beloved community via social media: "Craig left his body peacefully at home in Roberto's arms. We have lost the most divine human who has given so much to our communities, creativity, inspiration, pure love and lots of dancing.
Who was Craig Ruddy?
Ruddy was born in 1968 near Ku-ring-gai Chase and Garigal National Parks in the northern suburbs of Sydney. Growing up around green spaces means that nature has remained a constant in his life and has found its place in his artistic creation.
As a child, he suffered from a rare lung disease, "where my lungs would bleed, leaving me anemic and short of breath." It slowed me down and put me in a strange state of euphoria. As a result, I learned to sit and watch, ' he described. So it's no surprise that he enjoyed mediation and drawing as an adult.
Ruddy studied fashion illustration and design, and worked early as a landscaper, designer and art director, only turning to painting as a career in 2001. He had his first solo exhibition at the Sydney Fringe Festival in 2002, followed by the Graphis Gallery in 2003.
However, his Archibald Prize win in 2004 catapulted his career to the top. After many sold-out solo exhibitions in Sydney, Ruddy took advantage of the momentum to travel, dividing his time between Europe and a second home and studio in Buenos Aires, Argentina for many years.
More generally, Ruddy was an artist who used mediums indiscriminately – from pencil to charcoal, paint and even glass. Some have described his characters as "inseparable from the landscapes in which they reside". He favored a technique of superimposing information on the canvas or the page, where things seemed to float between space – between spiritual space and reality.
The next big change was a move to Byron Hinterland in 2015, to re-anchor his work in nature and embrace a more holistic lifestyle with his two-decade partner, Roberto Meza Mont.
They quickly become famous for their hospitality, their contribution to the community and their respect for important things. Ruddy will be remembered for his messy blonde hair, his gentle and gentle manner, his compassion and his generosity. He died at home with Roberto.