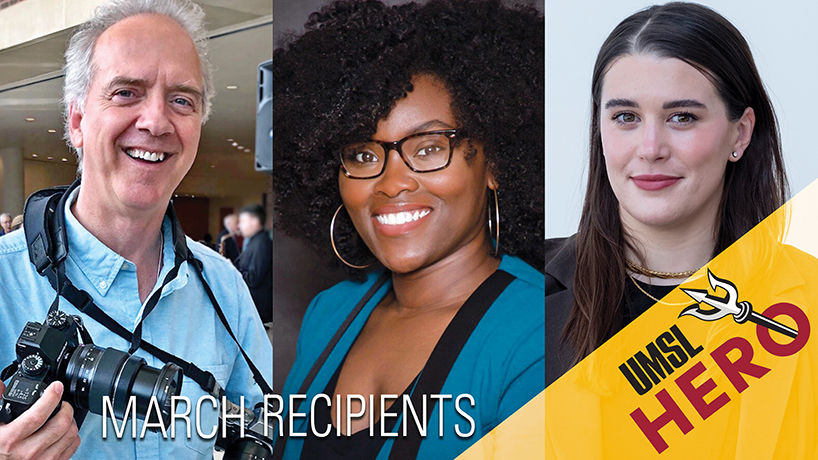 August Jennewein, Chelsea Nollau and ShaQuina White receive UMSL Hero Awards – UMSL Daily
University of Missouri-St. Louis Chancellor Kristin Sobolik and his cabinet continue to recognize the exemplary efforts of staff and faculty members across campus by awarding the UMSL Hero Award on up to three people each month.
This month's winners are August Jennewein, campus photographer from University marketing and communication; Chelsea Nollauacting director of Executive Events; and Sha Quina Whitepedagogical adviser to College of Education.
August Jennewein
A few pictures posted on the wall at her cousin's Easter lunch where a few UMSL employees were present led Jennewein to college.
"They saw pictures of me on the wall and asked if she could give them my name," Jennewein said. "My cousin said, 'Oh, he's in the next room eating a ham sandwich. ""
The ensuing interaction led to freelance work for Jennewein and eventually a job as a campus photographer. Joining college seemed to go together for Jennewein, who calls it "almost a spiritual thing."
A year earlier, almost to the day, her father had passed away after months in a hospice. Jennewein, who worked in the story department of Paramount Pictures and was trying to become a screenwriter, had considered moving back to Los Angeles.
"I feel like my dad opened the door," he said. "When I was offered the full-time job, it was like, 'Here's that dream job I haven't even dreamed of yet.' Being paid to do photography and working in a university. It's this big world where so much life, energy and creativity come together. I enjoyed playing my role.
Over the next 16 years, Jennewein captured the images of countless members of the UMSL community. He particularly enjoys meeting students, discovering their unique stories and helping to share them.
Work on UMSL magazine was another highlight.
"You get complete freedom for your stories," he said. "You don't have to worry about the dimensions of your photos, because they don't have to fit on the web. They can be anything. It's always fun.
UMSL magazine editor Jessica Rogen highlighted her dedication to her photo assignments and achieving best photography for the magazine and beyond in her Jennewein nomination.
"He is one of the hardest workers I have ever met," Rogen wrote. "For example, during Alumni 5K, Augie brought his bike to campus so he could quickly position himself along the course from multiple angles. The amazing results captured the fun spirit of the day, and we ended up using one for the inside cover of the magazine. There are so many Augie stories like this.
Being the recipient of the Hero Award came as a surprise to Jennewein.
"I appreciate it," he said. "It's a great recognition. In fact, my mom and my siblings liked it even more because they see it in the eyes of the way we present it, which is really cool.
Chelsea Nollau
Know that every time Nollau attends an event, she analyzes every detail, thinks about what she can use and what she could have done differently.
"If someone approaches me with an event idea, it's a great opportunity to look at other events and say, 'What did they do that was awesome, really engaging, or cool, and to borrow that," she said. . "But I always remember that I don't know the whole story behind their event. I know the work that goes into it, so I respect what 'they did, no matter what I could have done differently.
Nollau, who currently serves as Acting Director of Executive Events, got her start in event planning while working in the development of a nonprofit organization. Over time, she realized that she didn't like the fundraising aspect, but liked the relationship building and engagement that came with the events, as well as seeing them , from beginning to end.
She began working in UMSL executive events in 2018 and quickly found pleasure in working at a university, knowing that everything was in the service of educating students who would continue to impact the community after the graduation. It's no surprise, then, that his favorite event tends to be the beginning.
"It's the culmination of everything we do here," Nollau said. "I like seeing the students, with whom I don't often have the opportunity to interact. Beginnings are always great fun.
Nollau's flawless execution of early fall inspired Phil Donatgeneral manager of the UMSL Alumni Associationto nominate her for the Hero Award.
"Things went so smoothly that it's almost incomprehensible that one person coordinated everything," he wrote in his nomination. "He is an extremely organized individual who works very hard to get the job done, no matter what, however long it takes. His attention to detail is unmatched by anyone I know, and his ability to work under pressure to solving problems on the fly is what defines her. On top of all that, she's a wonderful human being.
For Nollau, learning that she had received the Hero Award was a complete shock.
"I was really surprised," she said. "Then it was probably even nicer to get another email that the Chancellor CC'd me on, letting me know that Phil had nominated me. That was what was really nice, knowing that this came from someone I respect so much.
Sha Quina White
As an academic advisor and doctoral student at the College of Education, White knows what it's like to wear many hats and juggle many responsibilities.
"I'm very student-focused and student-driven," she said. "I love defending them. I also love helping them – not necessarily pushing them – but helping them see that they are capable of more than they think they are.
White started working as an educational consultant in 2018 after earning a master's degree in counseling from UMSL in 2017 after a previous career in fashion merchandising. She helps undergraduate teaching students pursuing a teaching certification choose courses and plan their academic future.
That's the job description, but White is known for always going above and beyond. Ellen Meadowsboard director of the College of Education, singled out White for the Hero Award for this reason.
"ShaQuina White is a pillar of the College of Education Counseling Office," Meadows wrote. "ShaQuina cares deeply about its students and their success and goes above and beyond to ensure students have a clear path to Missouri Teacher Certification. College of Education students are so lucky to have ShaQuina as a resource.
White serves as a resource for students with questions, provides advice, frequently checks in on students, connects people to financial aid, helps them navigate the messaging system, how to find tutoring, and how to find resources – from veterans center at Disability Access Services to counseling services.
One of his favorite things about this job is seeing students from college entry to debut.
"If I pursue a student and see them graduate, that's great," she said. "It's a relationship I built from conception to graduation. This is what I look forward to because I know I have provided them with the resources they need to further their education here and graduate.
Much like the students she helps in her role as a counselor, White longs to build on what she learns within herself. Doctor of Education in Educational Practice and in his work and combine that with his passion for counseling, therapy and mental health on the go.
As a first-year doctoral student, she doesn't know what it will look like yet, but she has an idea of ​​where it will be.
"I want to be in higher education," White said. "Academic council is definitely a great place to start."
Each Hero Award recipient will receive a pin in recognition of their contribution. To nominate staff or faculty members for the UMSL Hero Award, visit https://www.umsl.edu/chancellor/heroes/index.html.

Short URL: https://blogs.umsl.edu/news/?p=92931