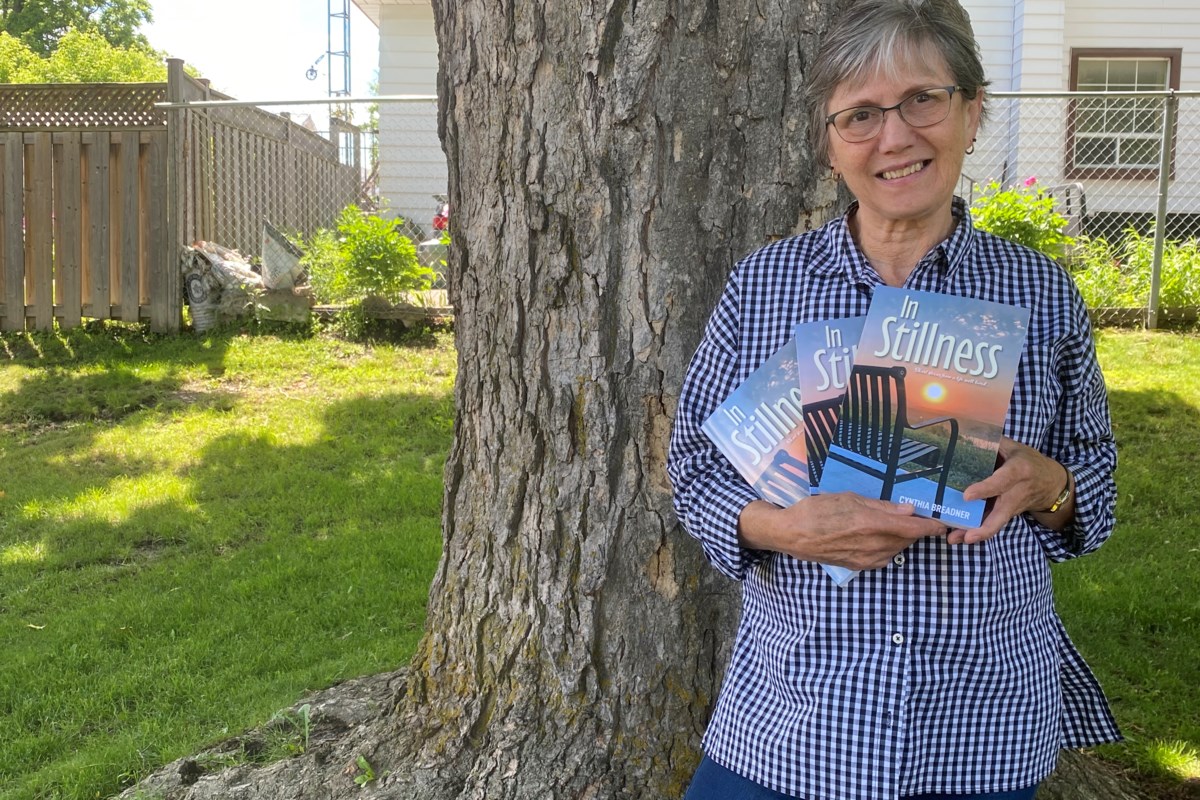 BradfordToday columnist publishes his first book
The book is a collection of works written during the pandemic focusing on loss, growth and hope
BradfordToday Columnist Cynthia Breadner has published her first book.
In stillness is a collection of spiritual chronicles published throughout the pandemic, focusing on loss, grief, hope and growth.
"It feels good, it's kind of surreal," she said of her work. "I'm proud of it."
Breadner began writing his column for BradfordToday during the pandemic, as a way to help readers work through feelings of loss and grief throughout isolation and lockdown. She is a grief counselor and provides specialized care in spiritually integrated therapies and also works as a long term care chaplain assisting with end of life care for clients and families.
When asked why she decided to publish her own book, she shrugged and said, "I didn't decide to write a book. I engaged with you and the online community by writing a weekly life column and this compilation has come to life on its own. Life is what we make of it and by making it we write our history.
For over 20 years, Breadner has been formally involved in the Christian community, however, the book is not religiously based, but rather spiritual in nature.
"Spirituality is a connection to that which creates meaning and purpose. Spirituality is the witness of human existence that the soul contemplates and brings back wherever it comes from once the experience is over," a- she declared.
"We have spent so much time building a religious community that we have lost track of the divine source that is the root of our hearts and souls," she said. "The very foundation of relationship begins with our connection to the source, the one who breathed life into us grows our nails and inspires the birds to sing. The very foundation of relationship to the divine comes from stories, from the telling of our experiences, sharing our lives together and, a relationship is formed by paying attention to life.
In her work with the dying, she has come to realize over the past few years that people often cry about not making the most of their time.
"The isolation of the past two years has shown us that we need each other in the flesh, in the community and in the gathering to move forward with purpose and meaning. Like a child who has to gorge from candy to sickness to let go, we've been soaked in online connection to nausea and it's time to get back to the local community, in person. It's time we realize that even if the connection online is here to stay, it's worth clinging to our humble beginnings as pioneers and builders of our cities."
She calls the book a "meaning-making manual" to study and finds similarities in the lives of others.
"It's a testament to a life well lived while using bad choices and regrets as a stepping stone to better days," she said. "We are not human facts, we are human beings, here to be present every day so that our spirit can live a human existence."
One day, Breadner hopes to build a spiritual community in Bradford for people to connect on a deeper level.
"We must learn to rebuild our spiritual bonds," she said. "My book is made up of 52 chapters of my exploration of spirituality and what it means to be spiritually connected to the people in your life, to nature, or to your practice. And to build spiritual community, we need to come out of isolation ."
In stillness is available for purchase on line at Friesenpress, Amazon and Indigo, as well as in-store at Bradford health food store Nancy's Nifty Nook.