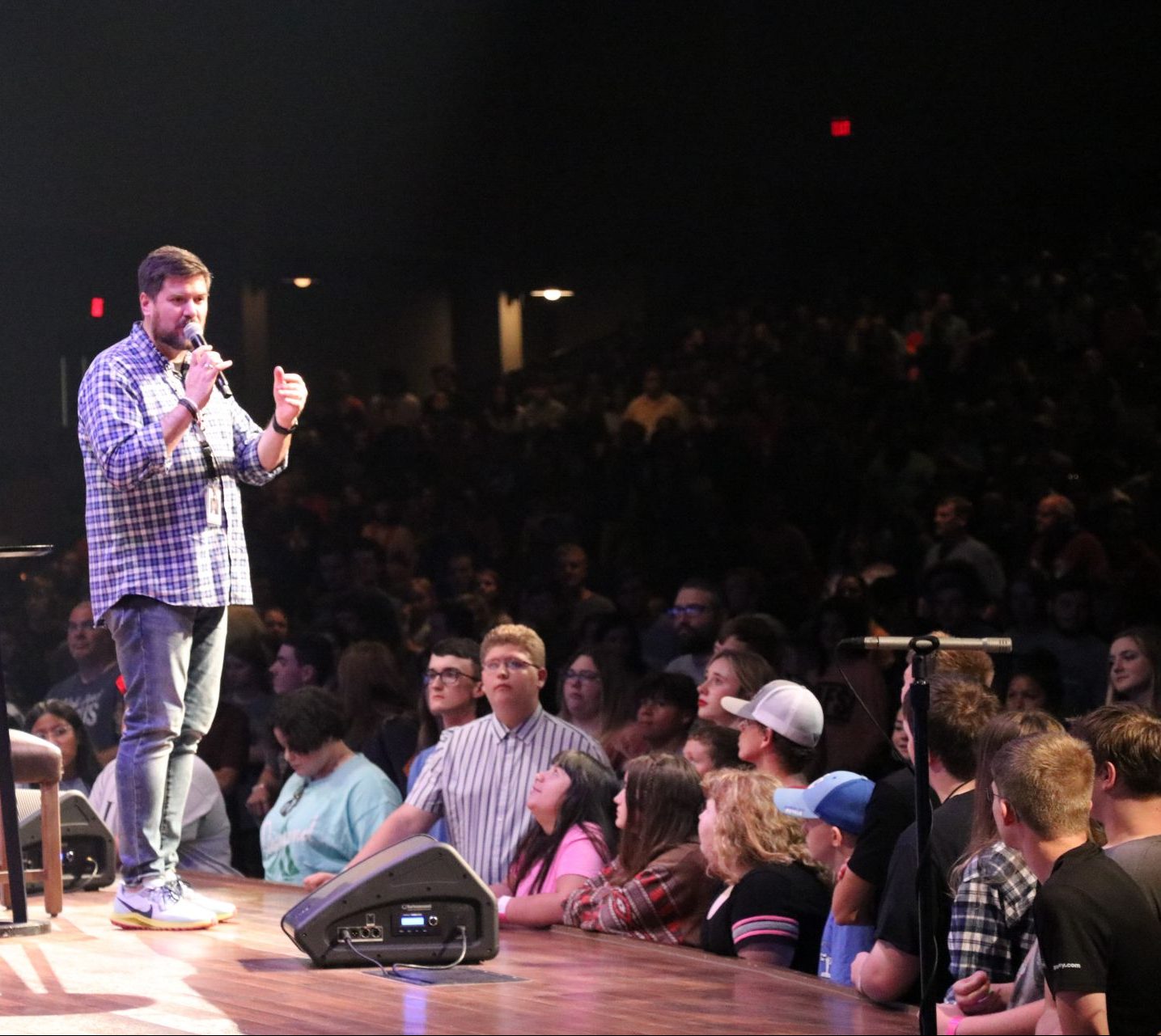 Falls Creek: a strong legacy
Above: Todd Sanders speaks to students who publicly responded to an invitation to Falls Creek.
There is a strong possibility that communities in Oklahoma will meet many people who have had an eternally meaningful experience with Falls Creek Youth Camp.
Falls Creek has been such a significant place for Baptists in Oklahoma through the generations. Churches descend on Davis during the summer weeks each year for an opportunity to connect students with the Savior. There has always been and still is a great need for dedicated and focused times to do just that. Camp offers this kind of focused opportunity like few other events.
The majority of believers trust Christ before the age of 18. This is an alarming statistic. Perhaps even more staggering, and one that helps frame the weight of the church's responsibility to reach this generation, is the reality that the unreached portion of this current generation of young people (Gen Z) would comprise the greatest State of the United States by 18 million inhabitants (ahead of California) if they were their own state. Everyone can see that the need is great. Hurry up. There is a strong and compelling reason for people led by God to act.
There will always be a new generation. God's people must have a heart and a vision to reach each new generation of young people. God-led people in the church are keen to take urgent action to reach this generation. Spirit-led believers engage the next generation with the gospel and model faithfulness, so students can also trust Christ and faithfully follow the Lord. This is the heart of making disciples. Oklahoma Baptists continue to accomplish this together through Falls Creek Youth Camp and other important Next Generation initiatives.
Falls Creek Youth Camp remains a special place for millions. In fact, since its beginnings in 1917, more than 2.5 million people have been part of Falls Creek Youth Camp, and 1.5 million of them have been full-time camp attendees. These numbers represent precious lives – souls – and opportunities to advance the Gospel.
God has changed life after life through His Spirit moving through the strong preaching of God's Word, vibrant worship and a rich community year after year at camp. The wife of an Oklahoma minister said, "Falls Creek instilled in me a sense of church family and belonging that extended beyond my local church body."
In its 100-year history, more than 72,000 people have professed Christ as Savior. Falls Creek Youth Camp, since its humble beginnings in 1917 with 273 participants and 13 spiritual decisions, has seen nearly 280,000 recorded spiritual decisions, not counting the countless other decisions that took place during the weeks of youth camp. Each of these numbers represents the movement of the Holy Spirit as God's people are committed to making disciples and faithfully leading others to the Lord and helping them grow in Him. God has changed the lives of generation after generation of students in Oklahoma and beyond.
Youth Minister Brandon Holloway sees the impact of Falls Creek on his life. "Jesus changed the whole trajectory of my life as a student at Falls Creek," he said. "Now I can go there every year and watch him do it again and again with my own students."
It really comes as no surprise that God is doing important work in the lives of students at Falls Creek considering the time, energy, and focus devoted to spiritual things, the Word of God, and continued application. of these eternal truths.
My wife, Angela, explained why Falls Creek had such an impact on her life. "Perhaps because I was able to leave the world behind for a week, I always seemed to hear God more clearly at camp," she said. "The existence of (Falls Creek) and the fact that so many adults I knew had participated and continued to invest in the effort told me that it was important to seek God with intention."
Another Oklahoma youth minister, Stefan Valdez, has his own story of the Lord changing his life at camp. "Falls Creek is a special place for me," he said. "I gave my life to Christ the summer before my freshman year. It was my first time to experience Falls Creek. I came home changed and didn't miss a summer in Falls Falls Creek afterward. Five years later, while serving as a sponsor at camp, the Lord called me into the ministry! I thank God for Falls Creek. It changed my life forever!"
Stefan is one of more than 37,000 who have dedicated their lives to ministry and missions in Falls Creek. Falls Creek Youth Camp continues its strong sending history and remains one of the most significant sending grounds in the world, impacting local church ministry and missions literally around the world.
As has been the case throughout its history, Falls Creek Youth Camp continues to provide a space for students and adults to listen and respond to the call of the Lord. A member of the Oklahoma Baptist Church said, "That's when I heard God's call to ministry and said, 'Yes.'
The need for the gospel among teens is strong, and the strong legacy of Falls Creek Youth Camp continues. Oklahoma Baptists maintain a strong partnership as they continue to cooperate to advance the gospel together among Oklahoma's teens. We pray that the summer of 2022 will be no exception.
To visit oklahomabaptists.org/youthcamp for more information on Falls Creek Youth Camp.