Hannah Che on Vegan Chinese Food Myths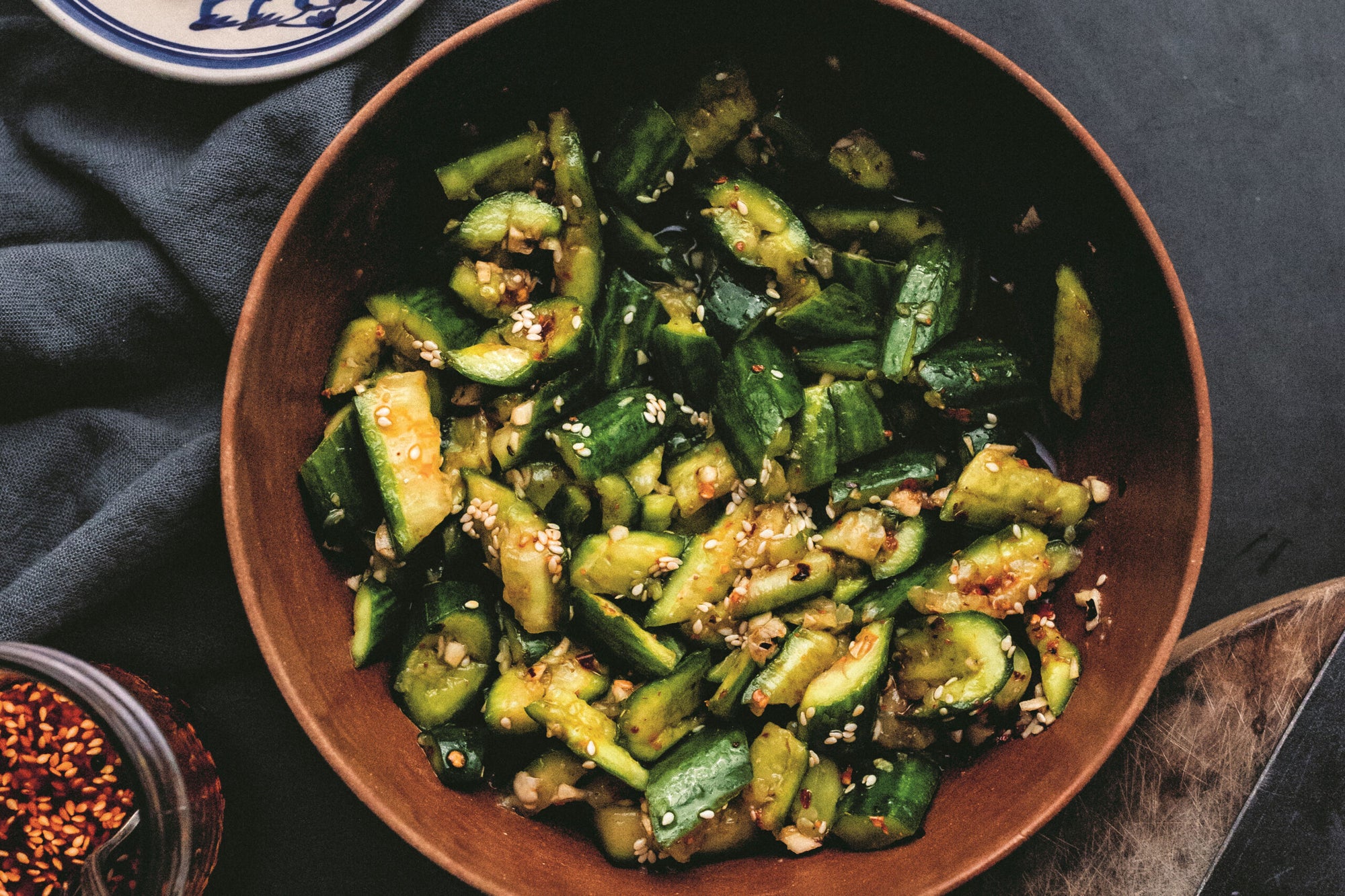 This story is brought to you by FLAVOR Cookbook Club, our passionate community of foodie readers from around the world celebrating our favorite authors and recipes. Join us as we cook a new book every two months and share your food photos and videos on social media with the hashtags #SAVEURCookbookClub and #EatTheWorld.
After making the decision to go vegan, Hannah Che nearly cried when she visited Chinese vegetarian restaurants. Not only were establishments that served plant-based foods plentiful in every Chinese city she visited, but the dishes she ate were also full of flavor. She knew she wanted to learn more about the country's long and storied history of vegetarian cuisine. So in 2019, Che enrolled in a culinary school in Guangzhou, a southern Chinese city famous for its fresh and delicate Cantonese cuisine. The experience ended up being a pivotal step in his plant-based journey, unveiling the Buddhist ethos that underpins much of the country's vegetarian cuisine and teaching him simple techniques to make the flavors of the vegetables shine. vegetables. Now she's sharing her learnings with the world in her first cookbook: Vegan Chinese cuisine: modern recipes and stories from a thousand-year-old tradition.
We sat down with Che to discuss what she sees as myths and misconceptions about Chinese cuisine, why she embraces fake meats, and what her teachers in Guangzhou taught her about the art of cooking in China. herbal basis.
The following has been condensed and edited for clarity.
How did you make the decision to go vegan?
In sophomore year of college, I read the book eating animals by Jonathan Safran Foer. I lived in a dorm, ate food in the college cafeteria, and was really disconnected from anything cooking. This book made me realize the bigger picture behind how our food is produced, especially animal products. Foer does a very good job, I think, of not passing judgment or condemning the way we eat, but just explaining how our food systems have become intertwined with industrial agriculture – food production subsidized by the government and profit-driven that doesn't care about our health or to treat animals humanely. I was home over summer vacation, and by the time I finished this book, I was like, "Mom, I think I need to go vegan.
What prompted you to specifically cook Chinese plant-based dishes?
My perception of Chinese food when I was growing up was very limited to what my parents cooked. After spending time traveling in China, I realized there were so many vegetarian restaurants in every city I visited. The dishes were so beautifully presented and so creative, and I wanted to learn more about the philosophy and history behind them. I learned that many vegetarian dishes in China have ancient roots in temple cuisine – foods that monks prepare and serve in monasteries, including to visitors. Dishes are free from animal products, as not harming living creatures is an important Buddhist philosophy. It's a very compassionate way to eat.
What do you think is the biggest misconception many Americans have about vegan Chinese food?
I think it's distorted in two ways. The first is that you can't find vegan dishes when you go out to eat in China. I think this perception stems from the fact that the most popular Chinese takeaways in the West are high in meat. Many people are unaware that most Chinese families' home cooking is very vegetable-centric. The word for dishes is cài, which actually means vegetables. The second misconception is that vegan Chinese dishes are just "ordinary" dishes from which you remove the meat.
It's not that you make vegan versions of meat dishes, because many dishes in your book never had meat, right?
Yes. From Sichuan cuisine to Shanghai cuisine, there are so many plant-based dishes in these regional cuisines. I really don't like the word "veganize" because the connotation is that you're like that foreigner who comes along and takes a traditional dish and changes it because the original way wasn't good enough. I don't think of vegan Chinese food as vegan Chinese food. Rather, it's about discovering the abundance of vegetarian cuisine that already exists.
Why did you decide to train at the Guangzhou Vegetarian Culinary Institute in China in 2019?
Cantonese cuisine, by the nature of Guangdong Province's climate, has such an abundance of fresh produce and traditionally uses lots of leafy greens. I'm not Cantonese – my parents are from northern China – so going to Guangzhou and learning from the chefs there was humbling for me. They taught me another way of cooking which is very, very simple. You're cooking with just one wok, and the variables are really just the types of fresh vegetables you use and the aromatics, whether that's sliced ​​ginger or dried chiles.
What kind of Chinese food do you prefer when eating out?
My go-to is usually an eggplant dish, or a stir-fry, or something with tofu. Most of the time, vegetable dishes are automatically vegan because, for the most part, Chinese cuisine does not use a lot of dairy products. Of course, do not forget that sometimes vegetable dishes are prepared with chicken broth or lard.
Fake meats appear in many Chinese plant-based dishes. What do you think of them?
There's kind of a negative perception of imitation meat among a lot of vegans in the United States. A lot of people think, "I don't want to eat animal products, so why should I go out and eat vegan meat?" But that kind of thinking is not a very generous way of thinking about the food we eat. These products are primarily intended for non-vegetarians who are simply trying to reduce their consumption of animal products. You have these very familiar textures that allow people to cook what they usually cook, but with substitute products. If they get someone to eat less meat, I'm all for it.
What are the cultural connotations of fake meats in the Chinese vegetarian tradition?
Along the same lines as today's new imitation meats, Chinese fake meats have also evolved to be more inclusive at the table. In Chinese culture, dishes can be highly symbolic – chicken or fish can represent prosperity or good luck. Monasteries want guests to feel welcome and honored, and so present them with elaborate and symbolic dishes that guests would be familiar with, just without the animal products. This tradition of fake meats continues in the contemporary restaurant world. Chefs are also doing some really creative things with plant-based protein like tofu, which I think is influenced by the growing side market of, like Beyond Meat and Impossible Foods. The perception of meat substitutes is changing. There's this interesting mix of the old with the new.