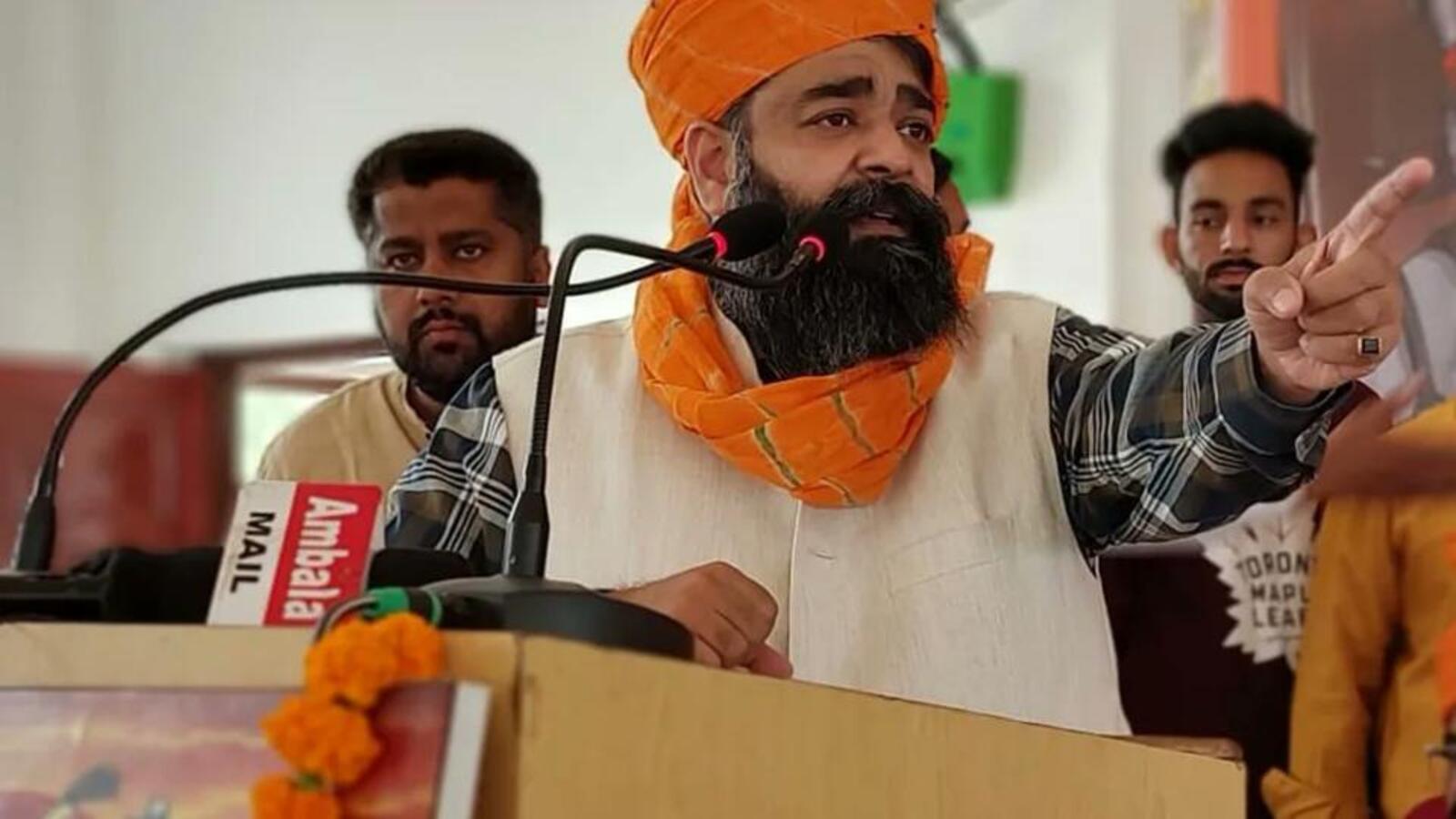 Hindu Rashtra doesn't mean others can't practice faith: Ambala City BJP MLA
Aseem Goel asks if it is not justified for a country with 100 million Hindus to call for a nation whose ancestors have sacrificed their lives for centuries
Ambala City BJP MLA Aseem Goel reiterated his call to make India a Hindu Rashtra and justified his promise to do so by saying that it does not mean asking people of other religions to stop practicing their faith or worship their deities.
Also Read: Panchkula Businessman Disabled By Accident Gets ₹56 lakh relief
"Dozens of our Indian compatriots live in Islamic countries in the Gulf region or in Catholic countries in Europe. But isn't it justified for a country with 100 million Hindus to call for a nation for which our ancestors sacrificed their lives for centuries? he said during a speech at a rally in Ambala district on Wednesday evening.
The event was organized by BJP to celebrate Maharana Pratap's birthday in Sirgarh village near Mullana and was also attended by MPs Rattan Lal Kataria and Naib Singh Saini.
On May 4, a group of Sikhs filed a complaint against Goel for having sworn to make "Hindustan a Hindu rashtra (country)" and called for "any sacrifice, if necessary".
Without mentioning the complaint, Goel said, "Most Hindus pay homage to Guru Sahab and we might not have been alive if Guru Gobind Singh ji had not sacrificed his family and his life to save us. Our Sikh brothers should know that he called for a Khalsa Panth and a Hindu religion.
Close story
Pattandur Agrahara Lake: BBMP delivers activist on social media campaign

In an unexpected development, the 'Save Pattandur Agrahara Lake' social media campaign took a dark turn after the Bruhat Bengaluru Mahanagara Palike (BBMP) lodged a complaint at Whitefield Police Station last week against the Chairman of the Residential Welfare Association of Whitefield, Sandeep Anirudhan. Anirudhan is a lake activist who started the online campaign to save Lake Pattandur Agrahara in Whitefield after road construction began in its buffer zone in 2017.

Watch: AAP's Amanatullah Khan to protest MCD's anti-encroachment campaign detained

Aam Aadmi Party MP Amanatullah Khan and his supporters, who were protesting against an anti-encroachment campaign in the Madanpur Khadar area of ​​South Delhi, were arrested on Thursday. Initial reports suggest police are clearing the area. Delhi once again saw an anti-encroachment campaign in several areas earlier today, days after bulldozers hit the Shaheen Bagh area – once the epicenter of the Citizenship Act or CAA protests.

Varanasi court orders completion of Gyanvapi Mosque investigation and report by May 17

A court in Varanasi on Thursday ordered the completion of the Gyanvapi Mosque investigation and submission of the report by May 17. of one of the petitioners, said Subhash Nandan Chaturvedi. The inquest is expected to begin the day after tomorrow, the court said.

Road accident on Yamuna highway kills five, UP CM mourns loss of life

Five people, including four from Maharashtra and one from Karnataka, were killed in a road accident on the Yamuna highway in Greater Noida of Uttar Pradesh on Thursday morning, police said. "The seven people were in a Mahindra Bolero. They were en route from Agra to Noida when their car hit a dump truck from behind near the Jewar toll gate," a Gautam police spokesman said. Buddh Nagar.

Karnataka to bring anti-conversion order, says Chief Minister Bommai

Bangalore: The Karnataka government plans to pass an ordinance banning religious conversions months after the state assembly passed an anti-conversion bill banning conversion from one religion to another through "misrepresentation , force, fraud, seduction or marriage" in December amid opposition protests. The legislation is modeled after similar laws in other Bharatiya Janata Party-ruled states, such as Uttar Pradesh and Madhya Pradesh. Chief Minister Basavaraj Bommai added that the order will be presented to Cabinet.