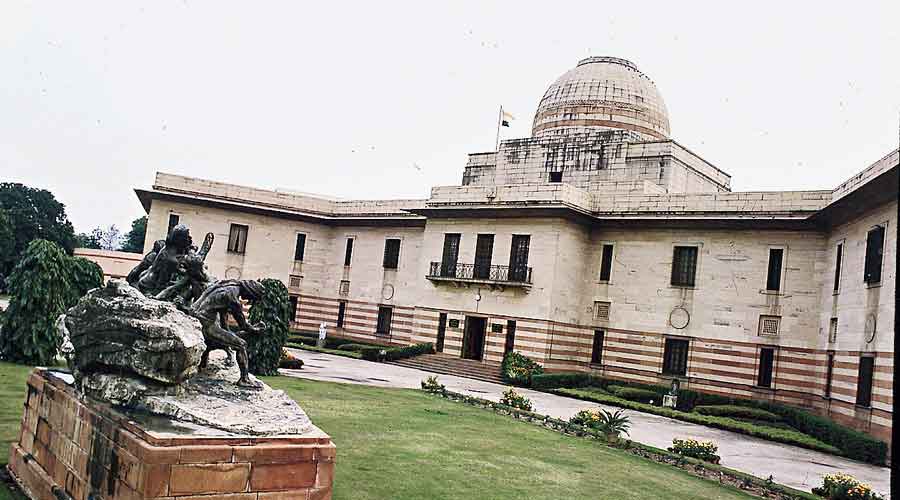 House of Arts and Culture a stopover for Hindu deities and other artifacts
Current events suggest that the institution, opened in 1954 and located in the elegant Jaipur House in Lutyens Delhi, may well become a
---
|

Calcutta

|
Posted on 11.16.21, 02:33 AM
---
Will the National Gallery of Modern Art be turned into a temporary shelter for Hindu deities and other items the Prime Minister brought back with great fanfare from his recent trip to the United States?
Current events suggest that the institution, opened in 1954 and located in the elegant Jaipur House in Lutyens Delhi, may well become one. Officials seem to have forgotten that the NGMA is a repository of the country's cultural ethics and presents the evolution of art forms in the visual and plastic arts over the past 160 years, starting around 1857.
And what is the aesthetic and cultural value of these objects brought back from abroad? Art historian Pratapaditya Pal said in a recent interview: "Take, for example, the recent repatriation of artwork from the United States to India. I only saw the photos of the hundreds of items that were handed over by the US government to the Indian Prime Minister, most of which were not worth the transportation costs for their repatriation.
According to a report from the Press Information Bureau of November 11, the Union Minister of Culture, G. Kishan Reddy, had that day handed over to the government of Uttar Pradesh, in the presence of several Union ministers and of State, an idol of the goddess Annapurna recovered in Canada.
The idea was that after a century after its theft, the 18th century ritual object could return to its original seat at the Vishwanath Temple in Varanasi.
It was one of 157 artifacts, antiquities, and figurines related to Hinduism, Buddhism, and Jainism recently handed over to India during Modi's recent visit to the United States, thanks to Prime Minister's "sustained efforts". Minister.
With elections in Uttar Pradesh just around the corner, Reddy did not miss the opportunity to invoke the Annapurna Devi and Indian farmers the BJP has intimidated so far, crediting the two with having produces food grain surpluses that have guided Prime Minister Garib Kalyan Anna Yojana through the pandemic.
The reception of the ritual object of little aesthetic value took place in the grounds of the NGMA in Delhi, which falls under the Ministry of Culture.
The NGMA Facebook page displays photographs of the ceremony with the accompanying text declaring: "Celebrating the homecoming of Mata Annapurna in NGMA, Delhi".
It was posted by NGMA Managing Director Adwaita Gadanayak, seen in the photographs wearing a red kurta and paying homage to the idol, wearing a ceremonial ghaghra choli.
Vivan Sundaram is not surprised. He described it as the "new normal" and a piece with the Prime Minister's bhoomi pujan for the new parliament last December. "This signals the growing tendency to introduce religion into the culture," he said.
Gadanayak told the correspondent on Saturday that the goddess had gone on a journey through Uttar Pradesh.
Although no formal puja took place, the paraphernalia and the auspicious colors of a religious ceremony could not be missing in the photographs.
Jogen Chowdhury's only question was, "Does the government intend to return the sculptures of Hindu deities (from) Indian Museum and National Museum in Delhi to their original location?"