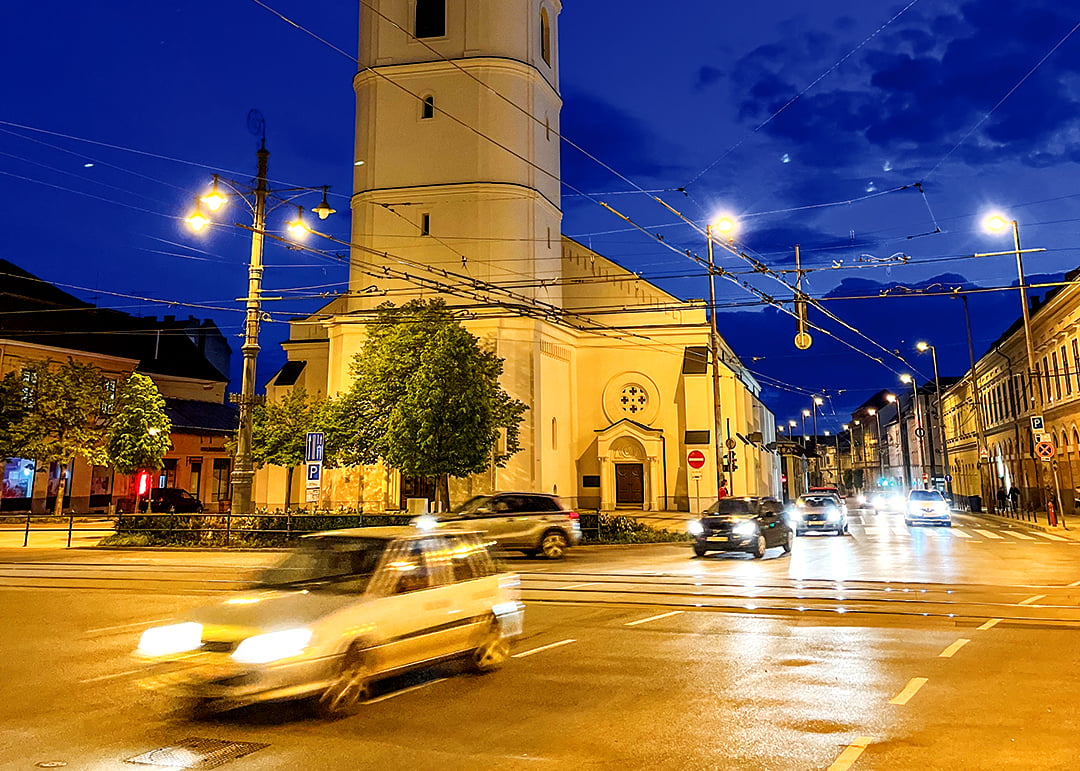 Hungary for Jesus: Dining with a Tenacious, Spirit-Guided Soul
DEBRECEN, Hungary — He's one of those guys who doesn't give up.
But Gian Monzon is also one of those guys who is willing to go where the Spirit leads.
I guess both of these mindsets played a part in our brief encounter with Gian in this Central European country.
To be honest, we had no good reason to stop in Hungary other than the fact that we were, well, hungry.
Our small team, representing The Christian Chronicle and Sunset International Bible Institute, had crossed the border between Ukraine and Romania the previous night and was on his way to Slovakia. It was halfway through our two-week journey to see how the Churches of Christ were responding to the war in Ukraine and the resulting refugee crisis.
I had not been able to contact any of the congregations in Hungary, although I had corresponded with a Christian couple who had hosted Ukrainian refugees. Hungary has opened its borders to more than 400,000 Ukrainians since the war began, but few remain. The language is notoriously difficult to learn and the country of 9.75 million souls has a reputation for being anti-immigrant thanks to the rhetoric and politics of its prime minister, Viktor Orbán.
It would have been easy to drive through Hungary, but I was determined to stop, find at least one righteous person we could meet (inspired by Abraham's conversation with God in Genesis 18).
Then the Spirit (or, more accurately, former missionary to Hungary Jeff McGlawn) put me in touch with Gian, who rode his bike from his home to meet us at Bonita Biztró, an Italian restaurant in beautiful Debrecen city center.
Gian is a long-haired former punk rocker from the South American nation of Peru. He moved to Venezuela and was able to part a crowd just like Moses parted the Red Sea. People would give him plenty of room as he walked the streets of San Antonio de los Altos.
Then missionary Lynette Rowland invited him to study the Bible with an Iglesia de Cristo (Church of Christ).
"So I'm in this Bible study, and nobody cared how I was dressed," Gian said. "Everyone treated me with respect, like a human person."
He continued to study and was baptized. Bob Brown, a longtime missionary in Venezuela, became her adoptive father. Later, he met a group of activists from Harding University and decided to attend Arkansas Christian School, although he was unsure how he would pay for it. God made a way.
After graduating in 1998, he studied at Harding School of Theology in Memphis, Tennessee. He worked three different jobs to cover tuition.
He went on mission trips during his college years. He was preparing to go to Kenya (and learning Swahili, which he says is phonetically similar to Spanish) with a team of students from Harding, but the mission team grew too large and he was licensed. A teacher, Anita Hamilton, who was like a second mother to him, suggested he join a trip to Russia and Hungary – freshly ripe after the fall of communism.
---
Read also: From Bucharest to Transylvania, Romanian churches serve Ukraine


---
He had visa problems at Budapest airport and was expelled from Hungary. But he didn't give up. God found a way to bring him back.
He fell in love with Hungary – and a Hungarian woman named Anita. He taught English in Debrecen and she was one of his students. He asked if anyone wanted to study the Bible, and she was the only one to raise her hand.
Anita later told him that in Hungary they don't ask for a show of hands. You just appeal to people. (She raised her hand because she felt sorry for him, Gian laughs.) Anita was baptized in 1999 and they got married in 2003. They now have three children.
Gian does not know how long they will stay in Hungary. He is a marriage and family therapist, but in recent years it has been difficult to find work, especially for immigrants. He and Anita can work in a school for the children of missionaries in the Philippines or in Senegal.
Gian might end up in Africa after all.
Wherever he goes, I know his tenacity and willingness to be led by God will get him where he needs to be. Who knows? Perhaps we will meet again in another distant country.
I insist that we stop there too.
ERIK TRYGGESTAD is President and Chief Executive Officer of The Christian Chronicle. Contact [email protected]and follow him on Twitter @eriktryggestad.
Filed under: Bob Brown Debrecen Gian Monzon Harding School of Theology Hungary Insight International Jeff McGlawn Opinion Sunset International Bible Institute Top Stories Ukrainian Refugees