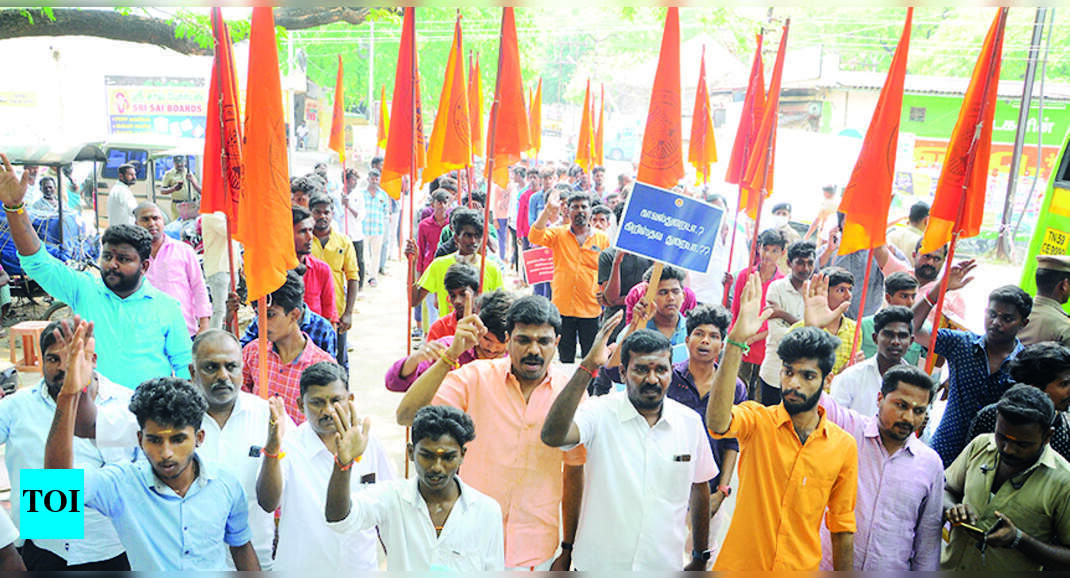 jaiva bhai corporation girls: Hindu executives protest 'teacher's submission to convert student' | News from Coimbatore
Tirupur: Hindu Munnani members staged a protest outside the Jaiva Bhai Corporation Girls' Higher Secondary School here on Wednesday to demand action against a teacher, who allegedly attempted to convert a Class VI student to Christianity on Tuesday.
The members, led by Her Majesty's Secretary of State VS Senthilkumar, urged the authorities to implement the anti-conversion law. "Pastors try to influence Hindus to convert to their religion. We filed a complaint with Tirupur North Police Station in this regard," Senthilkumar said.
Director A Stella said the saffron outfit was trying to defame the institution. "The teacher had scolded the girl student for not being attentive. The former made fun of the girl's vibhuti pattai, the three lines on her forehead made of holy ash, but did not try to influence her to convert. The teacher confessed that she did not reprimand her intentionally, but only because she had not finished her work. Other students also corroborated the teacher's version.
"HM members are blowing it out of proportion to defame the school, which is one of the institutions in the state with the largest number of female students. An investigation has been opened," she told tnn.