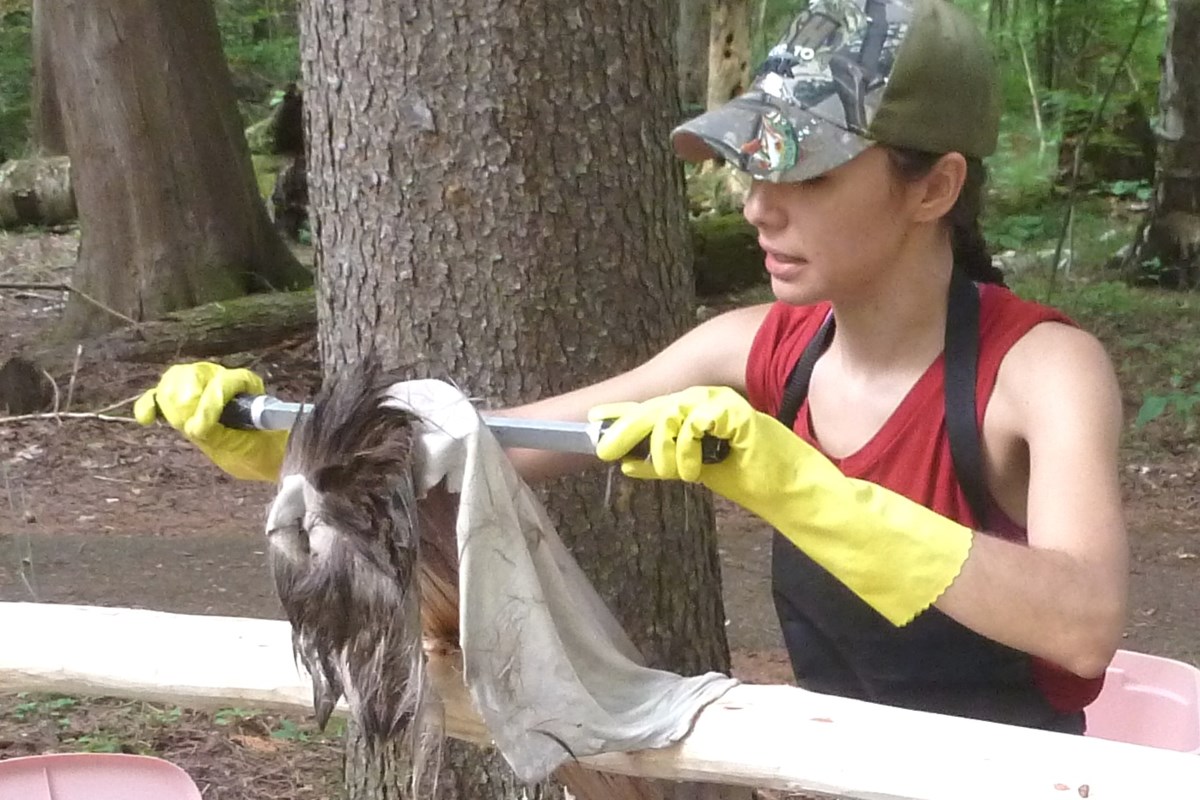 Local youth explore Indigenous roots at skin tanning camp
"The camp is organized to help Aboriginal youth learn about the Aboriginal art of skin preparation," said park superintendent Jeff Monague.
MIDHURST – For a solid week, Springwater Provincial Park will host a traditional deer skin brain tan camp.
Niizh Manidook Hide Camp 2021 operates on several levels for its 40 or so participants.
Brain tanning is a process of rubbing an emulsified solution of animal brain tissue and water into a wet rawhide, deer, or moose. This helps break down membranes which must be removed before the skin can be used for clothing and shoes.
"You have to honor their bodies," Six Nations Chelsey Bouchard said of moose and deer, working on a hide Sunday morning. "It's an opportunity to build relationships.
"It's going to be exhausting, but it's going to be awesome," said Storm French, with the Thames Chippewas near London, from the camp Aug. 7-15.
Beze Gray from Aamjiwnaang First Nation near Sarnia, one of the camp co-facilitators, said it was a very hands-on process.
"You put the brains on, then soften it, then smoke it and soften it a little bit more," Gray said of the skin. "The brain is used to process the skin, which is full of oils. There are not a lot of skin tanners.
"We can make personal products – moccasins, clothes, anything you would use fabric for. They (the campers) do it themselves.
Jeff Monague, manager of Springwater Provincial Park, Beausoleil First Nation, said Camp Hide is also a sign of the times.
"The camp is organized to help indigenous youth learn about the indigenous art of skin preparation," he said. "But it has to do with the pandemic and how necessary it is for people to learn some of the old ways of living on earth."
Skin tanning can occur in the bush, backyards, on land, in rural and urban settings, remote locations, public spaces, and Native American lands. It is seen as an act of love for the past, present and future.
Niizh Manidook Hide Camp also prioritizes creating a safer space for Indigenous youth aged 16 to 29 and members of the Two-Spirit / 2SLGBTQQIA community (Two-Spirit, Lesbian, Gay, Bisexual, Transgender, Queer, questioning, intersex and asexual or androgynous).
Two Spirit refers to a person who identifies as having both a male mind and a female mind; it is used by some indigenous peoples to describe their sexual, gender and / or spiritual identity.
Niizh Manidook means two spirits in Anishinaabemwin, or the Ojibway language.
Hide Camp, in its second year, is a new cultural revitalization initiative aimed at restoring and preserving traditional tanning in the shared territories of the Lake Huron, Lake Erie and Lake Ontario watersheds.
Part of the camp manifesto is to restore the value of traditionally tanned hides through knowledge sharing, which includes the memory, restoration and retrieval of indigenous wisdom. Skin tanning makes the purpose and value of deer and moose hides in native lands.
But the future of skin tanning rests on protecting the water and land of the Great Lakes, as well as respecting the animal spirits and ancestors who live there.
People were encouraged to apply for hide camp as "pods" to promote social distancing. Pods are two to five other people you already share space with on a regular basis – like your social bubble, your family, your parents, your friends. Those in pods were encouraged to camp together, cook together, eat together, and work the hides together.
Camping is free at Springwater Provincial Park for participants aged 16 to 29. The older ones were invited to sleep off-site.
Niizh Manidook Hide Camp is funded by the Ontario Trillium Foundation Youth Opportunities Fund.