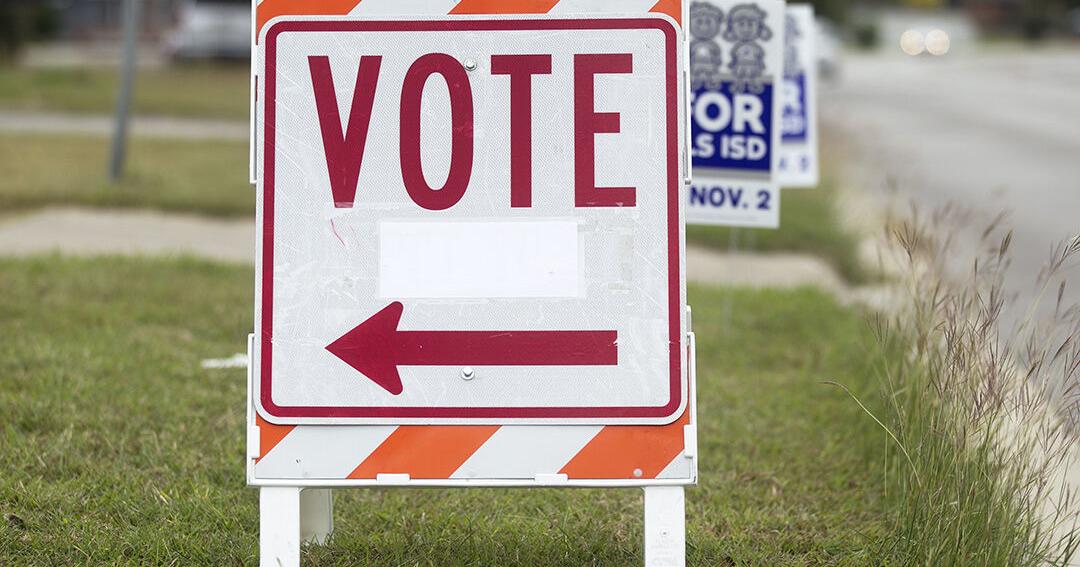 New Braunfels City Council and local school board seats up for grabs Saturday | Community alert
City council seats, school board trustee positions, constitutional amendments and proposals are on the ballot as voters in Comal County and Guadalupe head to the polls Saturday.
Polling stations are open from 7 a.m. to 7 p.m. Any registered voter can vote anywhere on Election Day, regardless of the constituency in which they reside, but must vote in the county in which they are registered.
Seats representing Districts 1 and 2 on the New Braunfels City Council are up for grabs, as incumbents Shane Hines and Justin Meadows have not sought re-election.
Andres Campos-Delgado, regional manager, Jimmy Delgado, business consultant, and Suzanne Kasey Lynn, COBRA specialist, are vying for the District 1 seat.
Christopher Willis and Fabian Dealva are looking for the District 2 headquarters.
New Braunfels ISD fills two general administrator seats and one District 1 administrator seat, while Comal ISD is looking for someone to fill administrator positions for Districts 6 and 7.
There are four candidates vying to fill two of the New Braunfels ISD general administrator seats up for grabs, including incumbent Wes Clark, who has served on the school board since 2013 and currently serves as board chair. Clark joins newcomers Randy Lenard and Megan Stratemann-Willis on the ballot, as well as returning school board candidate Matthew Sargent, who served on the board as a District 4 trustee from 2017-2020.
Outgoing New Braunfels ISD District 1 Administrator Keith Smith is seeking re-election and is challenged by candidate Morgan Renaud for the position.
For Comal ISD District 6, newcomer administrators Amanda Jones and Amber Bracegirdle are seeking to replace current administrator Marty Bartlett, who is leaving after serving a single term.
The Comal ISD District 7 Administrator race has resulted in four candidates vying to fill a vacancy left by Cody Mueller. On the ballot are Orlando 'OJ' Dona, Steve Gallets, David Krawczynski, who declared the highest amount of campaign funding of any candidate in the May 7 election, and current educator Kaila Stovall.
Voters will also voice support for or against two state constitutional amendments. Both are tied to property taxes for public schools.
On the ballot, Proposition 1 will read as follows: "The constitutional amendment authorizing the legislature to provide for the reduction of the amount of a limitation on the total amount of ad valorem taxes that may be imposed for the purposes of primary general education and public secondary on the home-owned residence of an elderly or disabled person to take account of any statutory reduction from the previous tax year in the maximum compressed rate of maintenance and operating taxes imposed for such purposes on family property.
Proposition 2 will read: "The Constitutional Amendment increasing the amount of the homestead ad valorem tax exemption for public schools from $25,000 to $40,000."
Voters residing in the proposed Canyon Ranch Municipal Utility District will consider four proposals regarding the establishment of the district, property tax rates and bond issuance.
Voters of the proposed Comal County Water Improvement District No. 3 will consider confirming the creation of the district and electing the district manager.
Garden Ridge voters will choose between Shelby Trail or Kay Bower for the Place 5 seat on city council.
For more information on the May 7 general and special elections or to view a sample ballot, Comal voters can visit https://www.co.comal.tx.us/Elections.htm and Guadalupe voters can go to www.co.guadalupe.tx.us/elections.
---
Polling stations open from 7 a.m. to 7 p.m. on Saturday, May 7
Comal County locations
VC #1 Comal County Senior Center
655 Landa, New Braunfels
VC #2 Mammen Family Public Library, Assembly Room A
131 Bulverde Crossing, Bulverde
VC#3 Tye Preston Memorial Library
16311 South Access Road Canyon Lake
VC #4 ESD Fire Station #4
215 Rebecca Creek Road, Canyon Lake
Lakeside VC #5 Golf Club
405 Watts Lane, Canyon Lake
VC #6 Westside Community Center
2932 S IH 35, New Braunfels
VC #7 Christ Our King Anglican Church
115 Kings Way, New Braunfels
Comal County Offices VC #8, Bulverde Annex, JP Courtroom 2
30470 Cougar Bend, Bulverde
VC #9 Garden Ridge Town Hall
9400 Municipal Drive, Garden Ridge
VC #10 Bulverde/Spring Branch Fire & EMS @ Johnson Ranch
30475 Johnson Way, Bulverde
VC #11 Westside Community Center, gymnasium
2932 S. IH 35, New Braunfels
VC #12 New Braunfels Library, large meeting room
700 E. Common, New Braunfels
Comal County Offices VC #13, Goodwin Annex, Training Room
1297 Church Hill Drive, New Braunfels
VC#14 New Braunfels Christian Church, Fellowship Hall
734 N. Loop 337, New Braunfels
VC #15 Eden Hill, Town Hall
631 Lakeview Blvd., New Braunfels
VC #16 St. Francis by the Lake Episcopal Church, Great Hall
121 Spring Mountain Drive, Canyon Lake
VC #17 North Shore United Methodist Church
23880 N. Cranes Mill Road, Canyon Lake
VC #18 Rebecca Creek Baptist Church
11755 Route 281 N., Spring Branch
VC #19 Gruene United Methodist Church
2629 E. Common, New Braunfels
Guadalupe County locations
VC #1 McQueeney Lions Club, 3211 FM 78, McQueeney
VC #2 Vogel Elementary School, 16121 FM 725, Seguin
VC #3 Seguin ISD Admin Bldg., 1221 E. Kingsbury, Seguin
VC #4 Forest Hills Baptist Church, 8251 FM 1117, Seguin
VC #5 Justice of the Peace Court, Pct 1, 214 Medical Drive, Seguin (formerly located at 2405 E. US Hwy 90, Seguin)
VC #6 Kingsbury United Methodist Church, 7035 FM 2438, Kingsbury
VC #7 Staples Civic Center, 9615 FM 621, Staples, (formerly Staples Baptist Church)
VC#8 Maranatha Fellowship Hall, 2356 S. Hwy. 80 years old, Luling
VC#10 Redemptive Grace Ministries, 2240 FM 725, New Braunfels (formerly Grace Church)
VC #12 Columbus Club of Seguin, 1015 S. Austin Street, Seguin
VC#13 Our Lady of Guadalupe Church Annex, 730 N. Guadalupe St. Seguin
VC #14 Westside Baptist Church, 1208 N. Vaughan Street, Seguin
VC #16 Geronimo Community Center, 280 Navarro Dr, Geronimo
VC #17 Mission St. Joseph, 5093 Redwood Rd., San Marcos
VC #18 The Silver Center, 510 E. Court St., Seguin
VC #19 Central Texas Technology Center, 2189 FM 758, Bldg A, Room 118, New Braunfels
VC #20 Church of the Cross, 814 N. Bauer, Seguin
VC#21 Santa Clara City Hall, 1653 N. Santa Clara Rd., Santa Clara
VC Learning Center #22 Marion Dolford, 200 W. Schlather Lane, Cibolo
VC #23 Schertz Elections Office, 1101 Elbel Rd., Schertz
VC #24 Schertz United Methodist Church, 3460 Roy Richard Dr., Schertz
VC #25 Selma City Hall, 9375 Corporate Dr., Selma
VC#27 Immaculate Conception Catholic Church, 212 N. Barnett Street, Marion
VC #28 Schertz Community Center, 1400 Schertz Parkway, Schertz
VC #29 Guadalupe County Service Center, 1052 FM 78, Schertz
VC #30 Schertz Community Center North, 3501 Morning Dr., Cibolo
VC#31 St. John's Lutheran Church, 606 S. Center St., Marion
VC #32 New Berlin City Hall, 9180 FM 775, New Berlin
VC #33 NBISD Transportation Bldg, 2621 Klein Way, New Braunfels
VC #34 Cibolo Fire Station #2, 3864 Cibolo Valley Drive, Cibolo
VC#35 Living Waters Worship Center, 3325 N. State Hwy 46, Seguin